8 Day Dubai and Maldives Indulgence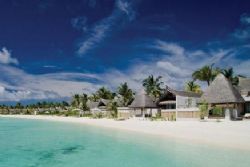 The Package:
The iconic sail-shaped silhouette of Burj Al Arab Jumeirah stands tall as a beacon of modern Dubai, characterized by the finest hospitality you can ever experience. Repeatedly voted the world's most luxurious hotel, this stunning destination offers you the finest service and experiences throughout.
Exquisite Resort Living at Maldives' Finest Address. Tucked away, a distant private island reachable by
...

Travel2 was created by the partnership of two renowned travel brands: Newmans Vacations and ATS Tours. Combined with Islands in the Sun, our sister company specializing in romance travel, we bring more than 200 years of experience in designing customized travel itineraries to Australia, New Zealand, the South Pacific Islands and Asia.
We understand that no two travelers are alike so we offer endless travel choices for first-time visitors and unique, "off-the-beaten-path" itineraries
...