From Canada to the American East Coast
on Le Bellot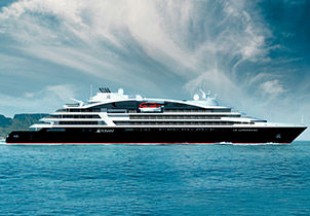 From Toronto, set sail aboard Le Bellot for the vast unspoiled expanses of Canada and the North American coast.
You will first enjoy a magnificent sail along the shimmering waters of Lake Ontario, then your ship will sail into the Saint Lawrence river, a prodigious waterway home to exceptionally beautiful nature.
You will then call in at two emblematic cities: Montreal, famous for its liveliness and its cultural vibrancy and Québec, capital of Canada's Beautiful Province, located on the St. Lawrence estuary and founded by Samuel de Champlain in 1608. Do not miss discovering this charming and lively city where the historic neighbourhood of Old Québec, with its ramparts and fortifications, is listed as World Heritage by UNESCO.
You will then sail towards the dramatic fjord of Saguenay, where many marine mammals have taken refuge. At the mouth of Saguenay River, you will reach Tadoussac. This National Park is also an unmissable site for whale watching as the mammals gather to feed before winter.
Further on, you will reach Percé, one of the most scenic villages of Québec, close to a National Park famed for its natural, historical and geological heritage.
Le Bellot will then cruise along the coasts of Nova Scotia, home to great historical towns and villages of unrivalled cachet.
Then you will head south to Bar Harbor on Mount Desert Island, discovered by Samuel de Champlain in 1604. This small bustling town on the north-east coast of the state of Maine is a seaside resort whose appeal lies in its stunning landscapes, including those of Acadia National Park.
This trip will end in Gloucester, the oldest port in the United States.

Why choose Ponant ?
A French crew, expertise, attentive service, fine dining and more. Within a fully 5 star setting, we take you to discover exceptional destinations while offering you a travel experience that is both authentic and high end.
Travelling the French way
As the only cruise company sailing under the French flag, PONANT is an exponent for the French way of life across every sea on the globe. On board, this is translated through ex
...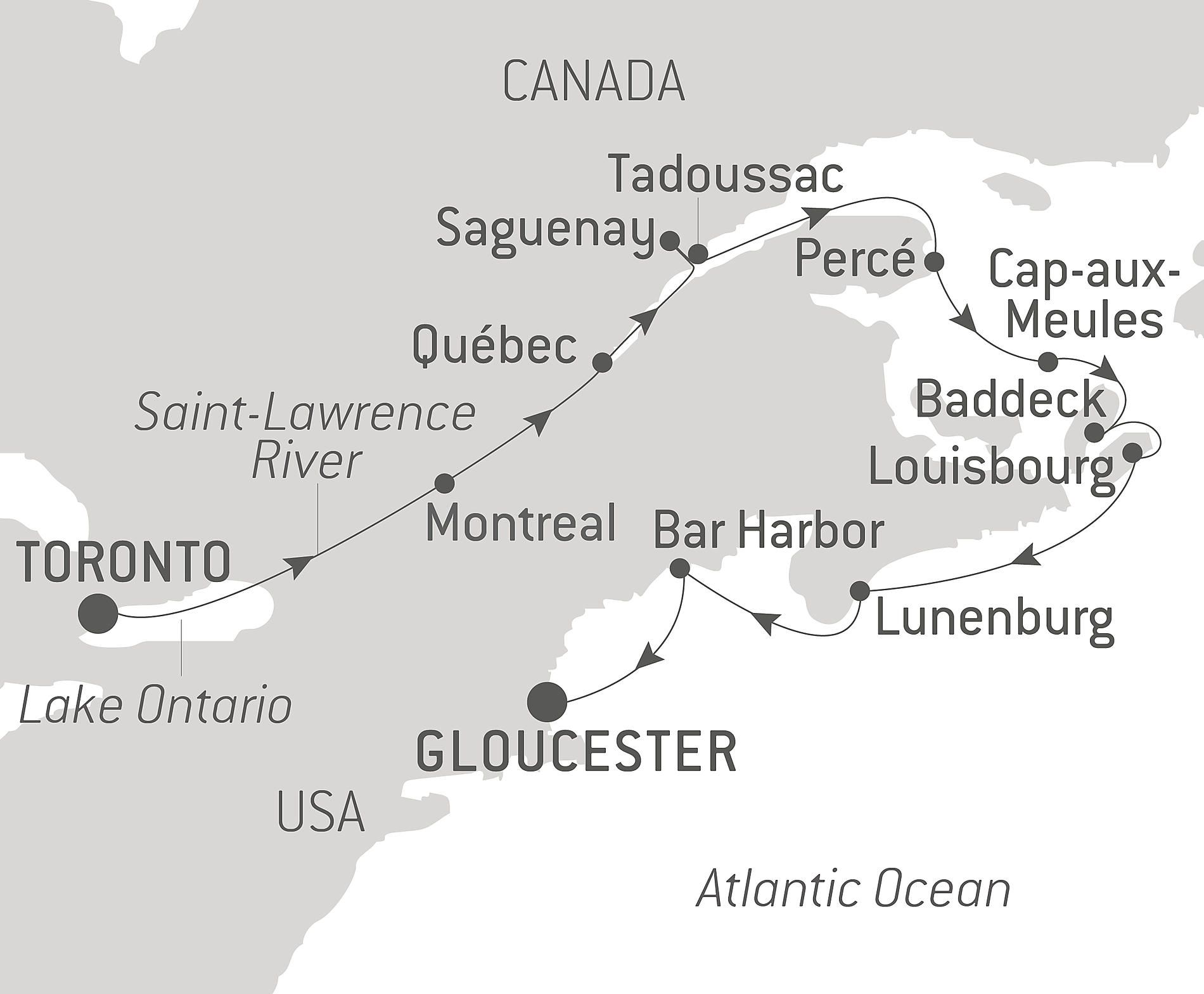 | Day | Port | Arrive | Depart |
| --- | --- | --- | --- |
| 1 | Toronto | | 6:00 PM |
| 2 | Sailing Lake Ontario | | |
| 2 | Sailing River Saint Lawrence A | | |
| 3 | Montreal | 6:00 AM | 6:00 PM |
| 4 | Québec | 8:00 AM | 6:30 PM |
| 5 | Saguenay | 12:00 PM | 11:59 PM |
| 6 | Tadoussac | 8:00 AM | 7:00 PM |
| 7 | At Sea | | |
| 8 | Percé | 6:00 AM | 2:00 PM |
| 9 | Cap-Aux-Meules, Magdalen Islands | 7:30 AM | 6:00 PM |
| 10 | Baddeck | 9:00 AM | 6:00 PM |
| 11 | Louisbourg | 7:00 AM | 2:00 PM |
| 12 | Shelburne | 1:00 PM | 7:00 PM |
| 13 | At Sea | | |
| 14 | Bar Harbor | | 2:00 PM |
| 15 | Gloucester | 7:00 AM | |