Land of the Prophets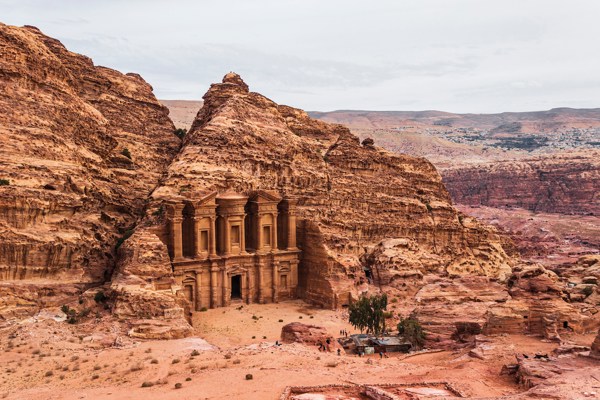 Land Of The Prophets
Adventure awaits on this 26-day guided tour. Travel to the vibrant city of Tel-Aviv and see its Habima National Theatre, Rabin Square and Carmel Market, then head to Jaffa to walk the narrow lanes of its artists' quarters - and buy a souvenir, if you choose. In Amman, see a cooperative that teaches local women craftmanship and skills. Picturesque Petra awaits with its rose-red gorges that lead the way to temples carved into the towering cliffsides. Sail the Nile on a felucca - a wooden boat with billowing canvas sails - with a local sailor. Indulge in traditional high tea at the historic Old Cataract Hotel. In Luxor, meet a local family who will share the secrets of authentic Egyptian breadmaking. And take in sweeping views of Cairo from the city's Citadel, a medieval Islamic-era fortress.
Dining Summary
25 Breakfast (B)
5 Dinner with Wine (DW)
10 Dinner (D)
8 Lunch (L)
1 Afternoon Tea (AT)
Choice Highlights
Choose between two carefully selected activities
Sea of Galilee: Enjoy a relaxing cruise on Lake Kinneret, the very place Jesus is said to have walked on water.
Sea of Galilee: Find out more about the ancient Galilee Boat and hear the story of its excavation.Alternatively, cruise the serene waters of lake Kinneret for glorious views of the Golan Heights.
Choose between two carefully selected activities
Amman: During a city tour of Amman, visit the Citadel, the grand Roman Amphitheatre and the Archaeological Museum.
Amman: Explore Amman's street art scene on a guided graffiti walking tour.
Additional Included Highlights
: Personal radio headsets give you the freedom to wander during visits to famous highlights, without missing any of your Local Expert's fascinating commentary.
: Hotel and restaurant tips are included - you'll never have to worry about how much to give, nor search for foreign currency. We also include all taxes and porterage charges at hotels.
: We carry your bags for you and promptly deliver them to your hotel door.
: From time to time, your Travel Director will delight you with an Insight Flourish, which is a local specialty representing the destination.
: Stay connected with friends and family with our complimentary coach and hotel Wi-Fi (where available).
: If your arrival and/or departure flights are as per the itinerary start and end dates, then transfers are available at scheduled times. If your flights are outside these times, or you have booked additional nights accommodation with Insight Vacations, you may purchase transfers or make your own way from/to the airport.
Authentic Dining
Tel Aviv: Enjoy a Welcome Drink and mingle with your fellow travel companions to begin your journey.
Tiberias: Participate in a Friday night Shabbat dinner.
Amman: Enjoy lunch at Beit Khairat Souf, a local café hosted in the home of the Bataresh family. This women-owned café aims to create a platform for local women to become financially independent. This experience advances UN Sustainable Development Goal 5: Gender Equality, supporting women empowerment in a region suffering drastically from women unemployment
Petra: Taste authentic Jordanian flavours as you experience a traditional desert dinner when you dine at the Ammarin Bedouin camp.
Wadi Rum: Enjoy tea with the Bedouins at sunset and taste authentic Jordanian cuisine dine under the stars for your Zarb dinner.
Amman: Toast to your adventures with your fellow travellers at a lively Celebration Dinner.
Luxor: Get to know your fellow travelers over a delightful Welcome Drink followed by dinner.
Cairo: Join the fun at an Egyptian dinner and galabeya party, dressed in traditional Egyptian attire.
Aswan: Follow in the footsteps of Winston Churchill and Agatha Christie as you enjoy high tea at Aswan's famous Old Cataract Hotel, as the sun begins to set.
Jerusalem: Toast the adventures of your travels with a lively Highlight Dinner.
Insight Experiences
Sea of Galilee: Find out more about the ancient Galilee Boat and hear the story of its excavation.Alternatively, cruise the serene waters of lake Kinneret for glorious views of the Golan Heights.
Luxor: Enjoy listening to stories of village life from local residents, when you visit a family home for a tasting of authentic Egyptian sun bread.
Make Travel Matter
Amman: Visit the Iraq-Al Amir Women's Cooperative supported by the TreadRight Foundation. Learn some skills behind these traditional handicraft activities from the ladies of the cooperative and admire their work, which helps boost their financial livelihoods. The Cooperative, which is managed and run by local women, has provided training projects for more than 150 women from all villages of Wadi Seer on a variety of handicrafts. Here women are provided with job training skills enable them to gain access to economic opportunities that might not have otherwise been possible. The Women's Cooperative advances UN Sustainable Development Goal 5: Gender Equality and UN Sustainable Development Goal 10: Reduced Inequalities.
Hula Valley: Join a ranger for a safari tour of the Agmon Hahula nature reserve. Visit the ecological garden, protecting endangered plant species native to the region.
Top Rated Highlights
Tel Aviv: Explore with your Local Expert and see the Habimah National Theatre, Rabin Square and browse around the Carmel Market.
Tel Aviv-Yafo: Visit the ancient port and artists' quarter and see the famous clock tower and old harbour.
Caesarea: With your Local Expert, explore the Roman and Crusader ruins of Caesarea, formerly one of the splendid cities in Palestine.
Nazareth: Visit the Church of the Annunciation built...
With Insight, you'll enjoy the best experiences your destination has to offer – all included within one price. You'll travel in business class elegance to quality, handpicked hotels in the best locations on our luxury coaches. They're specially configured with fewer seats to offer 100% more legroom than standard touring coaches.
You'll meet new people, too. Whether you join us on your own, as a couple, or with friends and family, the small group that you travel with will share your pa
...